Quiet operation and powerful suction.
Exhaust noise has been reduced without sacrificing suction performance by the addition of a silencer unit to the exhaust outlet to ensure smooth air outflow. A high-performance motor with 1,500 Pa of static pressure provides powerful suction and quiet operation.
HAKKO FA-430
Previous model (HAKKO 421)
Noise level dB (A)
Air volume
m

3

/min
Noise level dB (A)
Air volume
m

3

/min
High
53
4.7
60*
3.2*
Medium
50
3.7
Low
44
2.8
*Values measured when the unit was used with a 60 Hz power supply.
Notes regarding graph:






The HAKKO FA-430 features significantly reduced noise level in medium airflow mode despite the fact that suction performance remains almost unchanged compared to the previous model. High airflow mode also provides quieter operation than the previous model.
*Suction performance values are for when two ducts are used.
*Measured values for HAKKO 421 were taken when the unit was used with a 60 Hz power supply.
Catch harmful smoke with freestanding ducts and adjustable air volume to suit your working environment
Is your smoke absorber affected by air conditioning? Are you fed up with having to re-adjust ducts after every line change? The HAKKO FA-430 fume extractor is the answer to your problems.
Airflow adjustment
Three airflow modes are available: High, Medium, and Low. Significantly improve your working environment by using an airflow volume that suits the worksite and the job.
Low mode: Not easily affected by the surrounding environment. For use in small, quiet locations. (For when low-noise operation is a priority.)
Medium mode: For normal use.
High mode: For use in locations that are significantly affected by the surrounding environment. (For when suction performance is a priority.)
What do you mean by "surrounding environment"?
Smoke flows in unexpected directions due to a variety of factors; not just because of the influence of air conditioning. High mode is recommended if your worksite is situated near a doorway, in a spot where people continuously pass by, near the exhaust outlet of a large machine, or in a similar location. It is possible to use low mode in laboratories and other places where these kinds of influences are limited.
Freestanding ducts
Ducts can be bent or lengthened as desired and maintain their shape after adjustment, letting you place them exactly where suction is needed. Say goodbye forever to ducts that are long, heavy, and hard-to-handle.
| | Length | Weight |
| --- | --- | --- |
| Duct for HAKKO FA-430 | 1.2 m | 0.6 kg |






Photo above:
Bends and stretches freely for perfect placement!

Photo on left:
Lightweight and compact, the HAKKO FA-430 weighs only 7.5 kg. Built-in handles allow the fume extractor to be moved easily, facilitating line changeovers.

*HAKKO FA-430 weighs 35% less than previous models.
| | | | |
| --- | --- | --- | --- |
| | | | |
| If the duct is mounted at an angle above the workpiece, it is easily affected by air conditioning | If the duct is mounted directly above, it can be difficult to see the workpiece | | Duct is mounted on the worktable to provide excellent suction performance |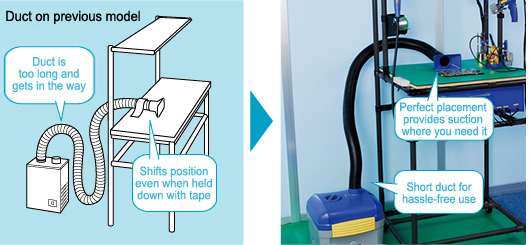 Filter replacement notification function ensures excellent trapping efficiency can be maintained at all times
No matter how sophisticated a fume extractor is, if the filter is not replaced at the correct time, it will not be able to give maximum performance. The HAKKO FA-430 detects the number of fan revolutions and notifies the operator of the appropriate time to replace the filter, guaranteeing a comfortable working environment.
Pre-filter
When the pre-filter is 80% clogged or has been used for 200 hours, the orange indicator flashes on and off.
Main filter
When the 10th pre-filter needs replacing, the orange and red lamps flash on and off.


SPECIFICATIONS
Model No.

FA-430

Power consumption

120W

Noise level

50dB (MEDIUM mode)

Maximum suction capacity

with single duct : MAX. 4.1m3/min. (145cfm)
with two ducts : MAX. 4.7m3/min. (167cfm)

Filtering efficiency

99.97% 0.3µm (LOW, MEDIUM mode)
99.96% 0.3µm (HIGH mode)

Static pressure

1,500Pa

Duct set (sold separately)

Length of duct : Φ55mm×1.2m (ESD SAFE)

Dimensions

330(W)×366(H)×343(D)mm

Weight

7.5kg
* Weight (w/o cord)
* Filtering efficiency is an initial value of collection efficiency based on counting method for airborne dust collected by a single plate of filter (unfolded).
* Noise level is measured at a distance of 1 m from the face of unit in an anechoic room.
* Net in duct sets are not protected against electrostatic discharge.